Living at the City's Green Edge: Bancroft Heights a Planned Neighborhood in Worcester, Massachusetts (Hardcover)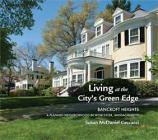 $42.00
Email or call for price.
Description
---
Taking as her canvas forty-plus acres on the west side of Worcester, Massachusetts, Susan Ceccacci has created a rich tableau that captures the city's cultural and industrial development over the past two centuries. A small, but centrally located, agricultural village and county seat of 2,400 residents in 1800, Worcester had become by 1900 a robust manufacturing center of 110,000. This story follows the tract of farmland that became Bancroft Heights as it passes from the 18th century Bancroft family to the hands of Worcester benefactor Stephen Salisbury III, who originated the gracefully planned community that has thrived here from its very inception.
Many of the first residents of Bancroft Heights were manufacturers who chose to live in a city neighborhood not far from their factories, rather than isolated in a suburban enclave. Yet green surroundings were not absent from the plan. Stephen Salisbury III and his cousin Edward Winslow Lincoln were instrumental during the latter part of the 19th century in promoting the planting of shade trees throughout the city and in creating the Worcester park system. That sensibility, which enriched the planning of Bancroft Heights, has been sustained by neighborhood residents for well over a century.
An architectural historian, Ceccacci has done justice to the architectural styles of Bancroft Heights, but she has done much more than that. She has given life to the neighborhood itself by following the families who have lived in each house. Living at the City's Green Edge is a history of an exemplary phase of Worcester's physical development, which also tells the tale of key players in the city's cultural and economic life. This is a living history that will engage newcomers to Worcester history as well as those who know it well.
About the Author
---
Susan McDaniel Ceccacci holds an A.B. degree in Art from Randolf-Macon Woman's College and a M.A. degree in History Preservation Studies at Boston University. Since her arrival in Worcester from Texas in the late 1960s, she has gained an intimate knowledge of the city's history and its architecture–first as a researcher and photographer on Worcester's 1977 comprehensive survey of historic buildings and later as preservation consultant for the 1980s surveys of Worcester's early 20th-century commercial architecture, automobile-related architecture, and architecture associated with the city's more than twenty ethnic groups. Having provided historic preservation consulting services to Massachusetts cities, towns, preservation organizations, building owners, and architects for more than thirty years, she is currently Education Director for Preservation Worcester.
Praise For…
---
"History tells us that people live in nations, cities and towns. They also do much of their living in neighborhoods, streets and houses, although conventional histories tend not to emphasize that part of life. Living at the City's Green Edge is an elegant chronicle of one of Worcester's first planned neighborhoods, one that has retained its character for more than a century. It has been lovingly and skillfully brought to life, street by street, house by house, by Susan Ceccacci, a professional historian with an intimate knowledge of the neighborhood and its residents." –Al Southwick, Worcester historian and author of Once Told Tales of Worcester County