James Herriot's Treasury for Children: Warm and Joyful Tales by the Author of All Creatures Great and Small (CD-Audio)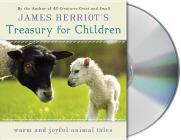 $14.99

Usually Ships in 1-5 Days
Description
---
Children have always found a delightful friend in James Herriot. His award-winning stories for young readers bring the farmyard world of Herriot's Yorkshire to vibrant life. Featuring a host of adorable animals and colorful townsfolk, each of the stories is narrated by the country vet himself, with all of the warmth, caring, and good humor that have made James Herriot beloved the world over.

Here, in James Herriot's Treasury for Children, we find all of his books for children collected in one beautiful volume. From the springtime frolic of Oscar, Cat-About-Town to the yuletide warmth of The Christmas Day Kitten, these stories—radiantly illustrated by Peter Barrett and Ruth Brown—are perennial favorites, and this new complete edition will make a wonderful gift for all readers, great and small.

Taken together, these stories comprise a wondrous Herriot menagerie, a family treasure that will be passed, with joy and affection, from generation to generation.
About the Author
---
Jim Dale is known to millions of fans as the voice of Harry Potter, as he narrated all of the books in the Harry Potter series. An AudioFile Golden Voice, he has received numerous accolades for his audiobook work. He has won seven Audie Awards and two Grammy Awards for Best Spoken Word Album for Children (for Harry Potter and The Goblet of Fire in 2000 and for Harry Potter and the Deathly Hallows in 2007). He also holds two Guinness World Records: one for having created and recorded 134 different character voices for Harry Potter and the Order of the Phoenix, and one for occupying the first six places in the Top Ten Audiobooks of America 2005.

 Dale's other audiobook credits include A Christmas Carol, Peter Pan, James Herriot's Treasury for Children, and Around the World in Eighty Days. Dale is also a stage and screen actor, well-known in Britain for his appearances in the Carry On films. He won the 1980 Tony Award for Best Actor in a Musical.
James Herriot
(1916-1995) was the bestselling author of memoirs including
All Creatures Great and Small
,
All Things Bright and Beautiful
,
All Things Wise and Wonderful
,
The Lord God Made Them All
, and
Every Living Thing
. At age 23, Herriot qualified for veterinary practice with the Glasgow Veterinary College, and moved to the town of Thirsk in Yorkshire to work in a rural practice. He would live in, work in, and write about the region for the rest of his life. Though he dreamed for years of writing a book, his veterinary work and his family kept him busy, and he did not start writing until the age of 50. In 1979, he was awarded the title Order of the British Empire (OBE). His veterinary practice in Yorkshire, England, is now tended by his son, Jim Wight.
Praise For…
---
"Jim Dale reads the stories with his enterprising vocal delivery and melds these tender stories into emotional yet satisfying experiences that reflect both the joy of having pets and the responsibilities involved with their care. Young listeners will learn the cycle of friendship, ownership, and companionship of unconventional pets and other animals." —Dr. Flora Joy, Parents' Choice Awards

"Dale employs a variety of entirely convincing rural accents in his portrayals of the country folk who ask for the vet's help and share their tales with him. He also captures all the kindness of the beloved Herriot in this collection for animal lovers of all ages." —AudioFile, Winner of an Earphones Award

"This charming title defines family listening…The eight short stories were selected especially for youngsters, yet adults will gladly listen along. Narrator extraordinaire Dale lends the perfect avuncular tone." —Booklist

"No doubt, if cows could talk, they'd sound just like Dale." —Scholastic Parent & Child

"Just the sort of thing you hope will imprint on the memory screen of a young child: fresh, clear, pure, and good." —Commonwealth

"Jim Dale, the English actor who's won multiple Grammy's for recreating Hogwarts with his voice has finished up work on the audiobook version of Herriot's classics. Like Goldilocks, Dale's got it just right." —Babble.com's Droolicious blog